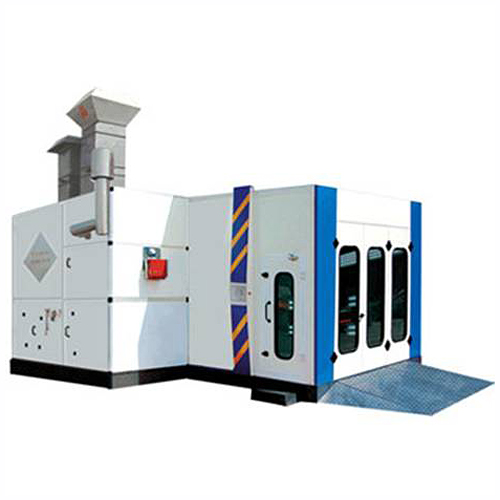 Description:
Outside dimension:7000*5690*3450mm(L*W*H);
Inside dimension: 6900*4000*2800mm(L*W*H);
Front door dimension: 3000*2600mm(W*H);
Working door dimension: 800*2000mm(W*H);
Cabin system:
1) Wall panel: 70mm thick flame-resistant and heat-preserving EPS board; 0.5mm thick colored steel.Roof panel: 50mm thick flame-resistant and heat-preserving EPS board; 0.5mm thick colored steel;
2) Basement: adjustable base, complete grilles, all ramps, height is 280mm;
Air circulation system:
Inhaling Ventilator
Model:YDW 4.5L1
Exhaust Ventilator
Model:YDW 5.6M
Blower capacity:14000m³/h
Blower capacity:21000m³/h
Pressure:800Pa
Pressure:800Pa
Rolling speed:940rpm
Rolling speed:900rpm
Power:4kw
Power:7.5kw
Quantity:2 sets
Quantity:1set
One set automatic damper, 20N actuator 36 pcs ceiling nozzles with 2 centrifugal fans (2.2kw/set) for drying water base paint
Air volume: 38500m3/h;
Air speed: 0.5m/s;
Air recycling times: 400times/h
Four-corner air dry systems separately controlled to fasten the water based paint drying.
Generator: separate air inlet and outlet duct and cabin; quadrate steel frame; specially design of the heating recovery system for saving energy effectively
Air purification system: Pre-filter, high efficiency filter (ceiling filter), floor filter, active carbon;
Heat system: stainless steel SUS304 heat exchanger, RIELLO RG5S diesel burner one stage, heating capacity is 260000Kcal/h, electric damper from spraying to baking cycle; the heating time is 5-7 minutes;with heat recovery system for energy the second time used, effectively save energy. The efficiency of recovery is 30%;
Lighting system:≥1000Lux
Ceiling Lights: 8Groups*4Pcs=32Pcs*36W;side lights:
8Groups*2Pcs*2rows=32Pcs*36W
Glass: all glass is toughened glass.
Control box: Lighting switch, spraying, risen-temperature spraying, baking, baking temperature, time setting, failure indicator, emergency stop, temperature controller, temperature limit controller, air pressure meter, emergency stop, breakdown alarm;
Total power:23.5KW