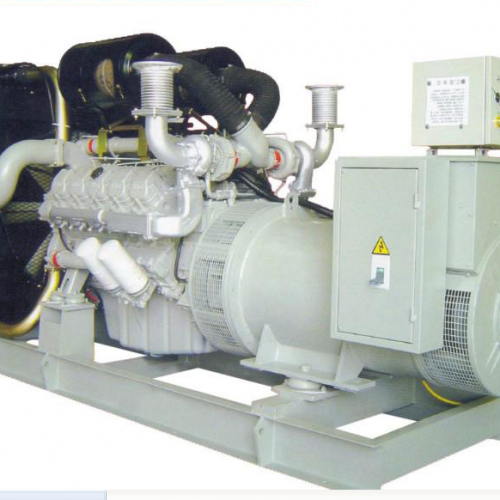 Description:
Galaxy-DOOSAN diesel generator introduction
Power range:60KVA-680KVA
Form:Open frame, Low noise, Trailer
Standard configuration of Perkins Diesel generator sets:
1.components:diesel engine, power ball, control systems
2.Battery Charger,24V High-performance maintenance-free batteries ,Connecting wires, connectors, battery switch
3. Industrial exhaust muffler, exhaust muffler connecting hoses, Low noise with a rain hat
4.8 hours daily base fuel tank;
5. MCCB :
6.Design fully comply the requirements of ISO8528 / GB/T2820.1997;
DOOSAN diesel generator control system
control box (DSE6020 control), features:
Providing  with the basic start-up/stop function for the units and possessing the following basic Configuration and functions
Start-up/stop controllers
There phases AC ammeter
Voltage meter and selection switches
Frequency meter /water temperature meter/oil temperature
Meter /time gauge battery  voltage meter
Alarming functions:over speed, high water temperature low oil pressure and battery charging failure
Protection functions: low oil pressure high water temperature over speed emergency stoppage and other pre-set/pre-installed protections
 Galaxy every  Diesel generator has been rigorously tested,  including 50% load 、75% load 、100% load 、110% load 。 Test all control systems, alarm function, shutdown protection, all qualified before allowing the factory.
50Hz
Model

Power

Currency

DOOSAN Engine

Stamford

Power output

KVA

KW

(A)

Model

Model

KVA/KW

ED68DS

62.5KVA/50KW

90

DB58

UCI224E

59/54

ED96DS

87.5KVA/70KW

126

D1146

UCI224G

85/77

ED138DS

125KVA/100KW

180

D1146T

UCI274D

118/107

ED200DS

175KVA/140KW

252

P086TI-1

UCI274G

164/149

ED220DS

200KVA/160KW

288

P086TI

UCI274H

199/177

ED300DS

275KVA/220KW

396

P126TI

HC1444C

272/241

ED350DS

315KVA/250KW

451

P126TI-II

HC1444D

294/265

ED415DS

375KVA/300KW

541

P158LE-1

HC1444FS

362/327

ED440DS

400KVA/320KW

577

P158LE

HC1444F

414/363

ED500DS

450KVA/360KW

649

P158LE-S

HC1544C

441/402

ED550DS

500KVA/400KW

721

P180LE

HC1544C

496/443

ED625DS

562KVA/450KW

811

P222LE-1

HC1544D

553/512

ED650DS

600KVA/480KW

866

P222LE

HC1544E

574/532

ED675DS

625KVA/500KW

902

P222LE-S

HC1544FS

603/552

ED688DS

650KVA/550KW

992

P222LE-11

HC1544F

652/610
60Hz
Power

Standby

Power

DOOSAN

Engine

Engine

Standby

Power


Stanford

Alternator

Power

kW

kW

, Model

kW

Model

kW

60

55

DB58

70

UCI 224E

60

90

80

D1146

105

UCI 224G

83

120

110

D1146T

138

UCI 274D

117

150

135

P086TI-1

191

UCI 274E

143

170

155

P086TI-1

191

UCI 274F

165

200

180

P086TI

223

UCI 274G

185

250

225

P126TI

298

UCD 274J

240

300

270

P126TI-II

342

HCI 444D

300

350

320

P158LE-1

402

HCI 444ES

335

400

360

P158LE

458

HCI 444FS

380

450

400

P158LE-S

481

HCI 444F

400

500

450

P180LE

540

HCI 544C

475

550

500

P222LE-1

625

HCI 544D

515

600

540

P222LE

649

HCI 544E

600

640

580

P222LE-S

682

HCI 544E

600