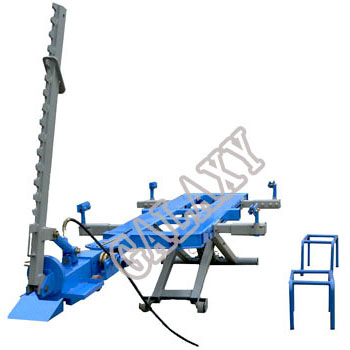 Body alignment series GH2
Description:
Function and feature:
GH2 auto body collision repair equipment. It suitable for small car repairing, maintenance, body sheet metal and girders repidly repairing. This equipment use hiding plane structure ,flexible move, simple control, concise and beautiful appearance, with high security. It also a dual-purpose machine, with the exception of sheet metal correction, usually use for lift.The hydraulic and pneumatic components designed by the Company for current technology, it aslo with pneumatic and hydraulic, rack and a variety of safe, reliable insurance, make the up and down movement smoothly.
Specifications:
Platform lenth:2770mm
Platform width:980mm
Platform height:120-950mm
Hydraulic pressure:70Mpa(10000psl)
Tower's largest hydraulic power:100KN(KH)
Gas pressure range:0.7-0.8Mpa
Lifing capacity:2500kg
Total weight:980kg
Tower height:1500mm
Lifing time: ≤70S
Pneumatic pump hydraulic oil :R22 # special hydraulic jack oil
Tower work range: 360°
Relate Product